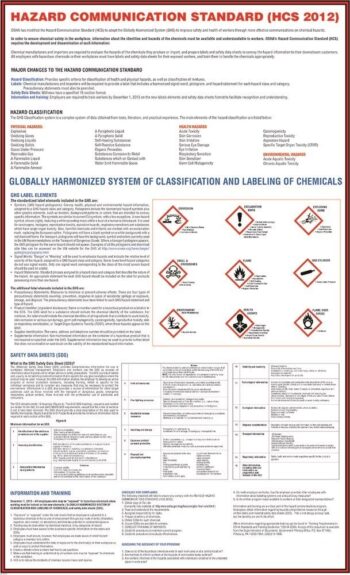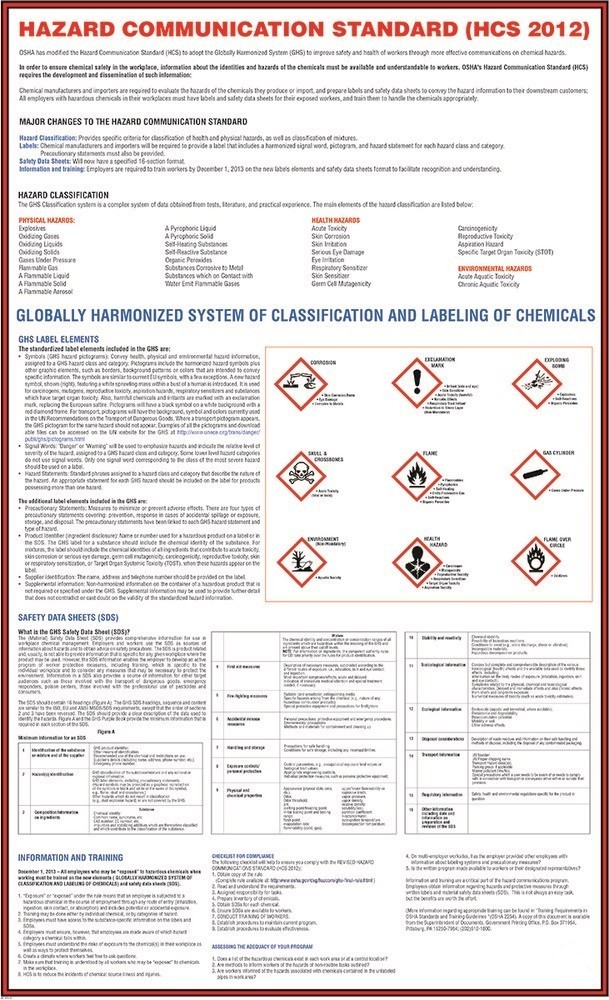 HAZARD COMMUNICATION STANDARD SAFETY POSTER
$28.95
HAZARD COMMUNICATION STANDARD WORKPLACE SAFETY POSTER
(ENGLISH or SPANISH)
Description
OSHA has modified the Hazard Communication Standard (HCS) to adopt the GHS to improve safety and health of workers through more effective communications on chemical hazards.
The Globally Harmonized System (GHS) is an international approach to hazard communication, providing agreed criteria for classification of chemical hazards, and a standardized approach to label elements and safety data sheets.
Adoption of the GHS in the US and around the world will also help to improve information received from other countries—since the US is both a major importer and exporter of chemicals, American workers often see labels and safety data sheets from other countries.
During the phase-in period, employers would be required to be in compliance with either the existing HCS or the revised HCS, or both.
OSHA is requiring that employees are trained on the new label elements (i.e., pictograms, hazard statements, precautionary statements, and signal words) and SDS format by December 1, 2013, while full compliance with the final rule will begin in 2015.
MAJOR CHANGES: HAZARD CLASSIFICATION, LABELS, AND SAFETY DATA SHEETS.
POSTER INFO:
Laminated on both sides and printed in high quality full color
Size: 24 x 39 inches