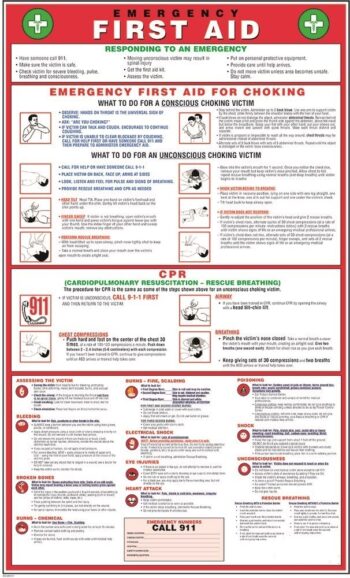 First Aid, Choking, and CPR
$21.95 – $32.95
FIRST AID/CHOKING/CPR Poster
(ENGLISH ONLY)
Poster size is 24″x39″
This extremely helpful poster contains detailed instructions on the emergency procedures relating to choking, how to administer CPR, and the common first aid accidents that occur and the solutions pertaining to each.
RECOMMENDED WORK PLACE:
Restaurants – Manufacturing- Laundry- Health Care Professionals- Nursing Homes- Hospitals- Medical Clinics- Police / Fire Stations- Schools / Child Care Facilities, Any work place with 15 or more employees. First American Safety recommends this poster for all workplaces.
ABOUT FIRSTAID CPR POSTER:
Laminated on both sides and printed in high quality full color
Size: 24×39 inches