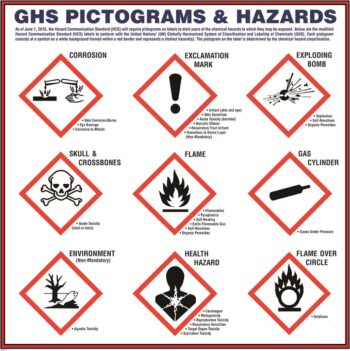 GHS Pictograms Poster
$27.95
GLOBALLY HARMONIZED SYSTEM OF CLASSIFICATION WITH LABELING OF CHEMICALS – Pictogram Poster
(ENGLISH or SPANISH)
Description
OSHA is requiring that employees are trained on the new label elements of the new Globally Harmonized System (i.e., pictograms, hazard statements, precautionary statements, and signal words) and SDS format by December 1, 2013, while full compliance with the final rule will begin in 2015.
This Poster displays all nine of the new pictograms which will be part of the new container labling requirements of the GHS.  Each pictogram is shown with a description of what it means so that employees will have a greater understanding of the new labeling system.
WHERE USED:
Any work place where employees or employers are exposed to any hazardous chemicals.
ABOUT POSTER:
Laminated on both sides and printed in high quality full color
Size: 24 x 24 inches