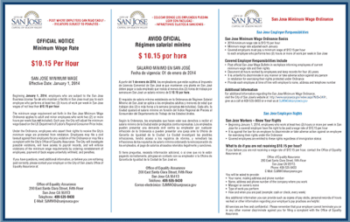 San Jose Minimum Wage Poster
$18.95
Minimum Wage information for businesses located in the city of San Jose, CA.
Description
SAN JOSE MINIMUM WAGE / Employer Responsibilities
This poster displays the requirement of employers to pay their employees a minimum wage of $10.15 per hour for work performed within the City of San José and requires the minimum wage to increase annually by the cost of living, if any, beginning on January 1, 2014.
Every employer is required to post and must adhere to the San Jose Minimum Wage. For ease of use, First American Safety offers this insert together with the San Jose Minimum Wage Ordinance and the Employer Responsibilities.
Please check the link below to see if you are within the city boundaries:
Minimum Wage Ordinance- City Boundaries
DISPLAYING POSTERS SIGNIFY A COMMITMENT TO COMPLIANCE!
ABOUT OUR POSTERS:
– Laminated on both sides and printed in high quality full color
– Size: 11″ x 17″ inches