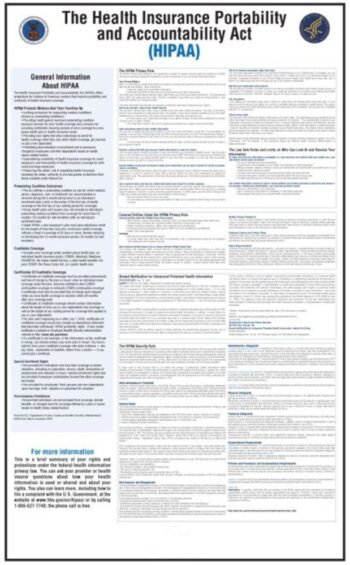 HIPAA Poster
$28.95
HIPAA Poster
Provides important information about HIPAA rules for your employees.
Available in English only.
Description
The Health Insurance Portability and Accountability Act (HIPAA) is one of the most important laws affecting employers and employees. This poster enables you to determine how HIPAA applies to your company, it also informs your employees how HIPAA affects their health insurance coverage and explains how HIPAA protects the privacy of protected health information.
HIPAA is also mandated for every healthcare organization and is required to be observed by medical professionals in dealing with patients and their medical records.
IDEAL FOR:
ALL EMPLOYERS in the healthcare and medical industry
All companies that provide health insurance to their employees
Medical Clinics
Medical Repair Personnel
Emergency Medical Technicians
Paramedics
Fire & Police Personnel
Nursing or Convalescent Homes
Sanitariums
Skilled Nursing Facilities
Assisted Living Facilities
Life Insurance and Health Insurance Companies
ABOUT OUR POSTERS:
– Printed in high quality full colored ink and laminated
– Size: 24 x 39 inches