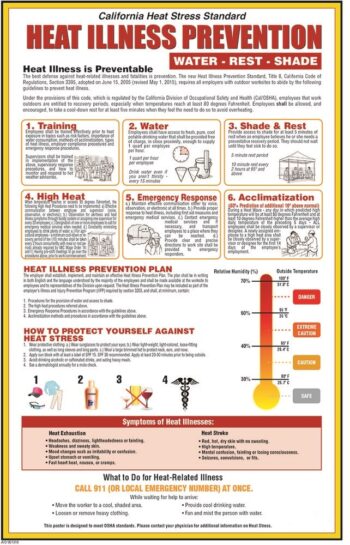 Heat Stress Safety Poster for California
$17.95 – $28.95
CALIFORNIA HEAT STRESS Safety Poster
(ENGLISH or SPANISH)
Description
The new Heat Illness Prevention Standard, under Title 8, California Code of Regulations, Section 3395, adopted on June 15, 2005 (recently revised to take effect May 1, 2015), requires all employers with outdoor work sites to train their employees on how to prevent heat illness, including taking mandatory breaks called "Recovery Periods" for workers working outdoors in temperatures of at least 80 degrees fahrenheit.  
It is mandatory to train employees and to post the Heat Stress poster for employees engaged in outdoor activities, especially those conducted in hot weather. This poster is ideal for outdoor employees including, and most especially, those in agriculture and construction.
THIS IS MANDATORY POSTING FOR BUSINESSES WITH WORKING CONDITIONS 85 DEGREES OR HOTTER.
POSTER INCLUDES:
Information about mandatory breaks called Recovery Periods – Added December, 2013

Additional Provisions regarding High Heat, Acclimatization, and Emergency Response –

 

Effective May 1, 2015
Emphasis on Heat Illness Prevention Planning –

 

Effective May 1, 2015

Steps to Prevent Heat Illness and Heat Stress

Symptoms of Heat Exhaustion

 

Symptoms of Heat Stroke

 

What to do for Heat-Related Illness
POSTER INFO:
Laminated on both sides and printed in high quality full color
Size: 11×17, 18×24, 24×39 inches