SALE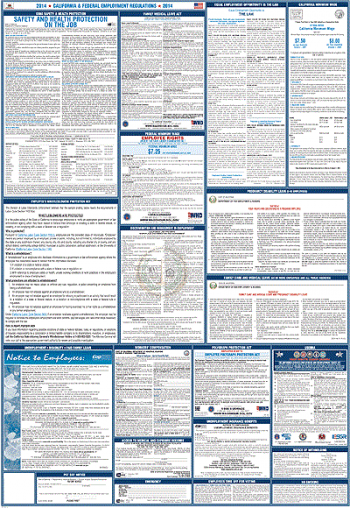 2023 Spanish Labor Law Poster
These are state and federal combination posters.
Select your state from the drop-down menu.
Our labor law posters are guaranteed to be up-to-date at shipping time.
This image is just a sample image.  The actual poster will look different for each state.
For English language posters, click here.
2023 Spanish Labor Law Poster For Most States
The 2023 Spanish Labor Law Poster is all you need to meet your workplace posting requirements.  All workplaces in America must post labor law posters under federal and state laws.  Employees must know their rights.  Since it is translated entirely into Spanish, this poster will ensure your Spanish-speaking workers will be covered too!  Our 2023 Spanish labor law posters are the best way to do this!.  If you do not have the required labor law posters in your workplace, the government can give out large fines.  Can you afford to be out of compliance?  Don't let money be stolen from your pocket!
This is an "All in One" labor law poster.  This means that it contains all of the required federal labor law notices, along with all of the required notices for your specific state.  All you need to do is select your state from the drop-down menu and order!
These are Spanish language posters.  Having Spanish 2023 labor law posters is a good idea if you have Spanish speakers in your workplace.  We have you covered in that department.  Many employers have both English and Spanish posters to be on the safe side.  All employers should post an English 2023 labor law poster in addition to this one!
All of the required 2023 federal labor law notices are on the poster.  Each state has its own labor law notices as well.  When you select your state from the drop-down menu, your poster will include all of the required notices for that state.  The posters are guaranteed to be accurate at the time they ship.  Check back often to see if your state has had any recent updates.  This way you can be sure your are in compliance with your state's labor law posting requirements.
We keep the 2023 Spanish labor law poster updated.  Any time a new requirement comes out, we make the needed changes.  This is how you know you are getting the labor law poster you need!
| | |
| --- | --- |
| Weight | 1 lbs |
| State | Alabama, Alaska, Arizona, Arkansas, California, Colorado, Connecticut, Delaware, Florida, Georgia, Hawaii, Idaho, Illinois, Indiana, Iowa, Kansas, Kentucky, Louisiana, Maine, Maryland, Massachusetts, Michigan, Minnesota, Mississippi, Missouri, Montana, Nebraska, Nevada, New Hampshire, New Jersey, New Mexico, New York, North Carolina, North Dakota, Ohio, Oklahoma, Oregon, Pennsylvania, Rhode Island, South Carolina, South Dakota, Tennessee, Texas, Utah, Vermont, Virginia, Washington, West Virginia, Wisconsin, Wyoming |